Hi! I'm Stefano Tiozzo, I was born in Turin in 1985, I'm a landscape and documentary photographer and I'm a soryteller specialized in travel and nature. But it hasn't always been like this… actually, for a long time I have been a dentist. I graduated with honours in Dentistry and Dental Prosthetics and practised dentistry for 9 years. At the same time, my great passion for travel, nature, photography and storytelling turned out into a true "mission" until I decided in 2016 to leave my medical career  and dedicate my life to become a witness to the infinite beauty of the world. Today, my YouTube channel is one of the main travel channels in Italy. I run photography workshops all over the world, with a particular focus in Iceland, Lapland and Arctic trips, mainly dedicated to the chase of the Northern Lights. Beyond traveling, I love teaching what I have learned in the field, both in terms of photos and videos: for several years I have been holding courses in major Italian cities, and from 2020 also online.
Over the years I had partnerships with Canon, Alitalia, Ferrino, Salewa, Reale Mutua Assicurazioni, Levissima, Ritter Sport, Treedom, Booking.com, MAN, Edreams, Regione Veneto, numerous local Italian tourist boards and for the European Commission. 
I have the honour of being frequently interviewed by the main Italian newspapers, radio and TV stations (La Stampa, Repubblica, Huffington Post, Radio Deejay, Radio Rai, Radio Capital, Kilimanjaro, Il Mondo Insieme).
I am a reporter and resident of the Social Media Team for the magazine "Dove Viaggi".
I wrote two books, "L'Anima Viaggia un Passo alla Volta" and "Una Scelta d'Amore", both for Edizioni Terra Santa, available both on the main online ecommerce and in bookshops.
In 2019 I founded  "SEVA Project", an environmental documentary project aimed to fund reforestation projects in the South of the World (Madagascar, Nepal). So far, we have already planted over 8000 trees!
My photos were exhibited in blow-up at the 2018 Moscow tennis open (Kremlin Cup), and exposed in the prestigious location of the Manege. My artwork has been exposed at the Biennale of Venice 2022, in the form of NFT at the Decentral Art Pavillion. I am an active member into the NFT and digital art space.
Since 2017 I have been happily married to my wife Sati.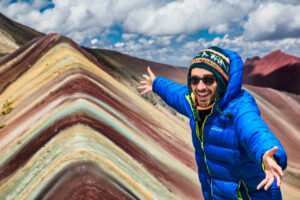 Cosa uso per realizzare le mie foto e i miei video

Cameras
Canon Eos 5DMark IV
Canon Eos R5
GoPro Hero 9
Dji Mavic 2 Pro
Lenses
Canon EF 16-35 mm f4 USM
Canon EF 24-105 mm f4 L IS USM
Canon EF 50 mm f1.4
Canon EF 70-200 mm f2.8 Macro
Canon EF 100-400 mm f3.5-5.6 L IS USM
Tamron 15-30 f 2.8 VC USD

Filters
NiSi ND 10 stop
NiSi ND 6 stop
NiSi ND Grad 3 stop Soft-hard-medium
NiSi Landscape Polarizer
NiSi Natural Night Filter

Software
Adobe Lightroom CC
Adobe Photoshop CC
DXO Nik Collection
Final Cut Pro X